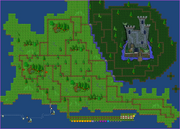 The Forest is the second world in SuperTux. It is generally a lively place with many creatures roaming about. Parts of the Forest, however, are spooked. This world was included in the unstable SuperTux 0.3 releases.
Enemies in the Forest can be found at the enemies page.
New Features
Edit
Switch
Moving Plateformes
Trampolino & Bouncing coils
Transportable Bricks
Doors & Teleport
Currently, the Forest world consists of the following 29 levels:
A Ghostly World
A Mouldy Grotto
A Village in the Forest
Bouncy Coils
Countercurrent
Crumbling Path
Dan Morial
Detour
Down The Rabbit Hole
Duct Ape
Entrance to the Castle
Find the Bigger Fish!
Going Underground
Kneep-deep in the depth
Light and Magic
Little Venice
Owls' Revenge
Penguins don't grow on Trees
Shocking
Short Visit to El Castillo
The Silent Walls
Three sheets to the wind
Treasure in the skies
Tree Fortress
Tux the Builder
Two Tiny Towers
Up and Down
Walking Leaves
Welcome to the Forest
End boss
Edit
Currently, the end boss of this world is The Ghost Tree.
See also
Edit